DUDE TO MAN
Peoples Magazine
November 18, 2002
Where are they now?
Strolling near his downtown Manhattan apartment or riding the subway, Alex Winter has heard the same shout from passersby for nearly 15 years: "Let's start with the little one!" That line, uttered in 1987's cult thriller The Lost Boys, just before a stake is plunged into the 5' 7 Winter's vampire heart, may be dear to his fans. But it's not the one he'd like to be remembered by. "I'd rather hear "Excellent!" anytime," he says.
Which was the exclamation heard throughout Winter's best-known film, 1989's Bill & Ted's Excellent Adventure, and it's 1991 sequel, Bill & Ted's Bogus Journey. In both Winter played Bill S. Preston Esq., to Keanu Reeves's Ted "Theodore" Logan - two idiot teens (and habitual air guitarists) who travel through time in a phone booth to ace their high school history project. But while Reeves used the flick as a springboard to stardom, Winter ditched Hollywood in the early 90's to focus on directing. Now 37, he makes indie films and commercials at his own production company Hyena Films. "This," he says with a grin, "is what I've always wanted to do."
Not that he has any regrets about Bill & Ted. "People have assumed that it's been an albatross around my neck that I'm remembered as the "dude" guy he says. "It hasn't been. I think they're wonderful movies." He and Reeves met at the 1986 audition, where they "just clicked," Winter recalls. "We had a like mind," Reeves, 38 agrees. "Our friendship was made during those pictures."
Their oddball sensibilities were given free rein on the set, mostly because studio expectations were low. "Everybody", says Winter was just like, 'Let's have a lot of fun.' "They did, filming for six months in Phoenix and Rome. But when legal snags kept Bill & Ted on the shelf for more than a year after the shoot wrapped, the stars assumed it would end up on cable 2 a.m. Winter was in Texas in 1989 directing a music video when the film came out. He had no idea it was a box office sleeper that would go on to gross more than $40 million. "I went into a diner and the entire place stopped eating and looked at me," he says. "From then on, things were very difficult for me."
And not all good. Although he had acted on stage throughout his teens before studying filmmaking at New York University, fame felt invasive. "To completely lose your anonymity freaked me out," says the London born Winter, who moved to St. Louis at age 5 with his dancer parents, Ross Winter (who died in 1995) and Gregg Mayer, and brother Steven, 41, a pianist. "I never wanted an actor's lifestyle. I just wanted to make movies." So in 1994 he left L.A. and moved back to New York to begin directing TV commercials.
The following year he married Sonya Dawson, a short-story writer he had met through friends in L.A. in 1991. He was famous then, but Dawson wasn't fazed by the Bill & Ted star. "Guys dork out over that movie," says Dawson, 35, "but girls don't really get it that much." In fact, some guys still have a hard time separating fact from bodacious fiction - like the one who asked Winter how his band was going. "Alex said, 'Huh?' and the guy said, 'The Wild Stallyns, dude,'" says Dawson. "People thought it was a real band."
Winter's Bill & Ted humor still gets a workout, only now it's with his 4-year-old son Leroy. The pair, who likes to hang out at the zoo,"have fart jokes," says Dawson. "They do all kinds of slapstick, pretending to fall down and get hurt." When playing time's over, Winter goes back to work on a screenplay that he plans to direct for MTV about Napster creator Shawn Fanning. "I'd love to be directed by him," says Reeves. "I saw him recently, and I'm like, 'When are we going to work together?' And he's like 'I'm trying, man, I'm trying.'" Would they ever reteam for a Bill & Ted sequel? "I'd love to do it," says Reeves. "I've always imagined Bill and Ted at 40 playing in an airport lounge in some small city." Excellent, dudes !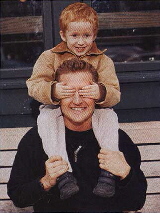 Alex & Leroy