MORE ARTICLES
PART I
Alex and Tom on The Idiot Box
| | |
| --- | --- |
| Alex Winter and Tom Stern, are taking characters like Eddy the Flying Gimp from Outer Space, The Burrowing Bishop and The Rain Man (as a hip-hop dancing fool) to the airwaves. Drop out, turn on and tune in to MTV Saturday nights to truly experience The Idiot Box written, produced and starring these hucksters of blood, mayhem and sex. "We both have a weakness for the bottom-of-the-barrel characters. There is something funny about the extreme tragedy of the last sigh that those characters make. It's all in the comedic tradition of Victor Hugo. You can only push a hunchback retard cretin so far before he wreaks havoc on the entire neighborhood. "MTV is worried that our stuff is all so violent and horrible. But that seems to be the stuff that's truly funny. There's something about the irony of a quick downfall that makes for good comedy." In the openings and closings of the show, which will have alternative videos interspersed with skits, they try to create some funny, catharic scene in which Winter has hopeful glimmer and then an immediate trouncing. "We figured if we'd deliver all this mean-spirited cocky humor we'd better backtrack it and show some humility by killing off the creators once in a while. Just so everyone won't think we're too big-headed." | |
Movieline Magazine, September 1991
The Hollywood Kids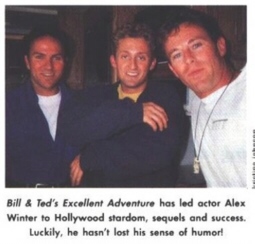 What was the very first acting role you considered the 'Big Time'?
Alex: I guess it was when I was a 14-year-old doing The King and I on Broadway with Yul Brynner.
How did you get from New York to Hollywood?
Alex: Driving an old manual Dodge Champ! I was a snobby New Yorker, but once I got to L.A. I moved straight to Venice, lived next to a crack den and got an agent.
The first time we remember seeing you was as one of the vampires in The Lost Boys. What was the BEST & WORST part about making it?
Alex: BEST: Working with a great film crew, it was the most fun I've ever had on a film. WORST: Having actors Corey Haim and Corey Feldman shovel dirt into my eyes during my death scene.
Speaking of the "Coreys", were you envious of their stardom back then?
Sure, they both had f***ing 1-900-teen phone lines!
What's the one thing that is always in your refrigerator?
Jimmy Hoffa!
Your bio says you appeared with Charles Bronson in Death Wish 3, which we failed to see. What did you learn from that movie?
Just how far you can push the suspension of disbelief. After all, I held a gun to Charles Bronson's head!
What role did you go up for, almost get, but lose out on in the end?
Morgan Freeman's role in Driving Miss Daisy!
Did you know at the time that Bill & Ted's Excellent Adventure would become so popular?
No never, for a second! I thought it would end up on HBO at 4 in the morning.
What was the first thing you bought for yourself when the Excellent Adventure bucks came in?
A black motorcycle, and I finished some film projects at NYU.
Of all the stars you've met, who MOST & LEAST impressed you?
MOST: Filmmaker Russ Meyer, because he's never sold out. LEAST: There's sooo many! Mason Reese, because I expected so much more form his career!
Tell us about the sequel to Excellent Adventure.
Bill & Ted's Bogus Journey basically finds us rulling the world until some robots kill us and we got to hell and can't get out. Judgement at Nuremberg it's not!
Did you get more money and points for the sequel?
Yes, but the catered lunch food didn't improve.
Put a quick description after each Star's name.
Jason Patric = "Wow, too intense man!" Johnny Depp = "purse those lips!" Sean Young = "What a gal and she's smart!" John Water = "Ain't he Divine!" Winona Ryder = "Do we want to ride her!" Mark Hamill = Hardest working guy in showbiz!"
You and your NYU school buddy Tom Stern formed a production company. What's it about?
Tom and I were both frustrated students so we formed Stern-Winter Productions. We now produce music videos for groups like Ice Cube and the Red Hot Chili Peppers, and we have a show called "The Idiot Box" which airs on MTV. We're developing a project for Fox called "Freaks".
Speaking of "The Idiot Box". It's radical and funny but we've heard complaints about the excessive violence. How do you reply?
Violence is very important to comedy. It dates back to Punch & Judy.
Do you hang with your contemporaries at the happening clubs like Bar One or Roxbury?
No!
If you could have a dinner party for six famous folks (living or dead) who would you invite?
1) Sinead O'Connor 2) Rudy Ray Moore 3) L. Ron Hubbard 4) Oscar Wilde 5) Aimee Semple McPherson 6) Dweezil Zappa.
---
back to articles and interviews