---
July 15, 2007
Bill and Ted adapt to 2007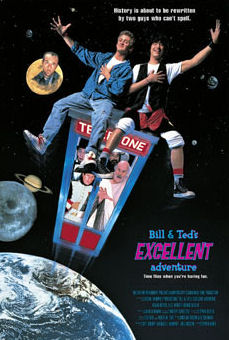 On July 11 the L.A. Times reported that MGM is developing a straight-to-DVD revisiting of Bill & Ted's Excellent Adventure. Unfortunately this movie will NOTstar Alex Winter or Keanu Reeves and it will NOT be written by the original film writers Ed Solomon and Chris Matheson. The article states that an outline for the film has been submitted by Gabe Grifoni and Suzanne Francis, who co-wrote the yet-to-be-released 2007 film Wieners.
I'm not sure if this revisiting will be a sequel, remake or complete spin-off. But what I do know is that this is just another way for the studio to earn an extra buck by using another 80's cult classic for a straight-to-DVD release.
Read the L.A. Times article here
---
April 14, 2007
A Lost Boys Sequel Statement
Surfing Vampires?! Oh Come on ...
Don't mess with this cult classic

If you feel the same then sign the petition at: petition.lostcave.net
This site is hosted and maintained by my friend Sarah, and she's wonderful.

Links to news about the sequel:
iesb.net
WorstPreviews.com
CanMag.com
---
February 20, 2007

Saul of the Mole Men is a live action show created by Craig Lewis, writer on The Grim Adventures of Billy and Mandy and Foster's Home for Imaginary Friends. The series first aired February 11, 2007 on Adult Swim. Adult Swim is the adult-oriented television programming block on Cartoon Network in the United States, featuring absurdist and often ribald comedy in contrast to the tamer daytime Cartoon Network.
The series is described as "an ultra-patriotic Land of the Lost set in the center of the Earth," and is directed by Tom Stern and stars Josh Gardner as an idiot geologist stuck in the middle of the earth with mole man creatures. Josh Gardner is known for his previous collaboration with Tom Stern on Gerhard Reinke's Wanderlust.
Tim Burns provided the music for the show and
Alex is doing the voice of King Mole Man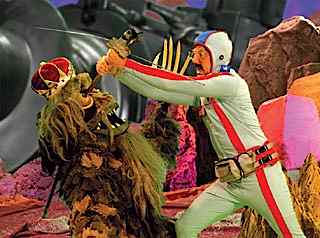 Click here for the official site.
---
February 19, 2007
Ben 10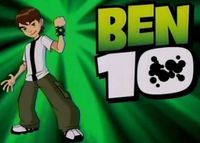 Cartoon Network will produce two movies based on its series Ben 10, the network says.

Alex Winter, star of Bill and Ted's Excellent Adventure and a voice actor on Saul of the Mole Men will direct a live-action Ben 10 feature that will premiere in December. Winter stated at the 2007 Upfront presentation that he wants "this thing to look like X-Men," an epic adventure that will be "more cinematic than cartoony" and appeal to all ages. Casting on the film is under way and the production is expected to wrap in October. CG effects and characters will be used, but Winter promises the film will feature "no Jar Jar." Winter previously directed a CG animated global advertising campaign for Tony the Tiger, and expressed a deep interest in the rapidly advancing technology.

An animated feature film based on the Ben 10 series will precede the live-action film with a November release. In the animated film, Ben accidentally sets the Omnitrix on self-destruct and must find its creator to shut it down. CN's Michael Ouweleen described the film's villain as "like Darth Vader without the sense of humor."

Read the article here

Cartoon Network Messageboard

Quote: "I don't know how the live action movie will turn out, but I was impressed with Alex Winter's enthusiasm for the project. He seemed to be coming at it from the perspective of a sci-fi fan, eager to make something that would satisfy the Ben 10 fanbase. It sounds like the budget may be a little tight, as he talked about making the CG low quantity but high quality. He does have some background with CG so hopefully he can deliver there. Besides he said that if he failed to make a satisfying film his son, a Ben 10 fan, would kick him out of the house."
---
February 14, 2007
Monte's Gold
In episode 13 of the forensic investigation series 'Bones' Alex had a guest appearance as Monte Gold Internet Kingpin, aspiring Hugh Hefner and head honcho of a website called 'Hotty Student Body'. Yeah... Monte is quite a character. A real bad guy. Monte tours the country on a bus to hustle college girls and try to make them pull off their shirts after a few drinks. When the body of a young student is found - raped, murdered and fed to an alligator - Monte is (of course) the prime suspect.
It's been a long while since we've last seen Alex as an actor. And it was fun to watch him play a real bad to the bone pimp (or should I say 'entrepreneur'?) like Monte. Hopefully this part in 'Bones' will lead to more acting in the future.
---
January 31, 2007
The Girl in the Gator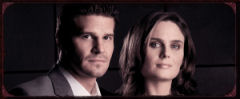 The episode of BONES with Alex in it, will air on the 7th of February.
The episode is titled : "The Girl in the Gator" and this is the description: after Booth's gun is taken away because he maliciously shot a clown ornament on an ice cream truck, Brennan must go to Florida alone to investigate the death of a college student whose body is found inside an alligator (.. what an awful way to kick the bucket).
Cast: Emily Deschanel as Dr. Temperance Brennan; David Boreanaz as FBI Special Agent Seeley Booth; TJ Thyne as Dr. Jack Hodgins; Michaela Conlin as Angela Montenegro; Eric Millegan as Zack Addy; Tamara Taylor as Dr. Camille "Cam" Saroyan.
Guest Cast: Stephen Fry (Jeeves and Wooster, Blackadder) as Dr. Gordon Wyatt; Eddie McClintock as FBI Agent Tim Sullivan; Alex Winter as Monte Gold; Eamonn Roche as Lloyd; Eric Jungmann as Eddie; John Lacy as Bill Dowd; French Stewart as Isaac Horn; Jami Miller as Judy Dowd; Kelly Kruger as Abigail Sims; John Maynard as Ice Cream Truck Driver; John Eric Bentley as Park Ranger; Emeka Nnadi as Alan Simmons.
For all the foreigners amongst us (including moi), here's the official website for the show: http://www.fox.com/bones/
They do play episodes online as well so you might be able to watch it online after it airs!
---
January 8, 2007
Hanging out with Keanu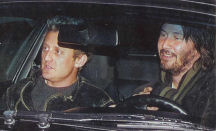 British rag mag The Sun caught Alex and Keanu on camera, when they grabbed a bite to eat at Koi restaurant in LA on January 6.
---
November 24, 2006

We're strange people us Europeans .... we talk funny, have unusual eating habits and we can appreciate a good football match. But other than that we're exactly the same as the Americans. Another revealing fact is that we watch the same TV series. The Fox hit series BONES for example (starring David Boreanaz) is quite popular over here. According to the IMDb Alex recently made a guest appearance on this series. It will be great to see him act again and I'll definitely be on the lookout for the episode with Alex, as undoubtedly most of his fans will be.

---
November 11, 2006
Save the Internet

PSA campaign for savetheinternet.com
---
Downloaded: The Rise and Fall and Rise of Napster
coming soon!
Alex is currently working on a movie for MTV Films about Napster icon Shawn Fanning. The film will portray the rise and fall and rise of the mp3 files sharing program. Napster founder Shawn Fanning himself will be very involved.
---
August 17, 2006
Bill for President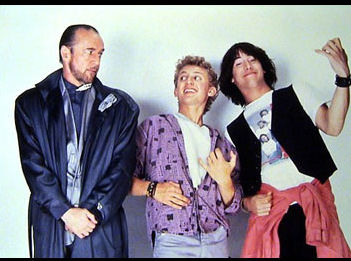 It's the bullies versus the nerds. The homecoming queens versus the bookworms. The popular kids versus the outcasts. Who rules the school? Go back to school at UGO.com. Vote for Bill and Ted as your favorite candidates for Class President and have a chance to win an all-expense trip to Cancun, Mexico.

The first election round ends on August 29.
There will be 4 more rounds after that ending in early October
---
April 24, 2006
Vail Film Festival

The Vail Film Festival was held from March 30 - April 2, 2006 at America's top rated ski resort in Vail, Colorado. The festival screened 75 films from around the world, including 20 feature films, premieres as well as 55 documentaries, short films, animated films, and television pilots. Besides screenings the festival also featured workshops, seminars, discussions with award winning actors, writers and directors, festivities, VIP Parties and live music. The Vail FIlm Institute was founded in January 2003 by actors, filmmakers and and dedicated film enthusiasts to foster new filmmakers and encourage innovative filmmaking. The first annual Vail Film Festival, conceived and staged by the Vail Film Institute, was held in Vail, Colorado from April 1 – 4, 2004.
This year's festival marked the world premiere of 16 films, including The Naked Ape, 10 MPH, Keep Your Distance, Outside Sales, Stalking Santa, Jam, Snowblind, Bon Apetit, Fast Talkers, By The Wayside, Zombie Prom, One Per Cent, Altered By Elvis, The Death of Salvador Dali, No Menus Please and Laundry Night,
Alex was a jury member for the features category. The other jury members were Laura Bickford (the Oscar nominated producer of Traffic) and Tim Kirkland (who directed Loggerheads which film premiered at the 2005 Sundance Film Festival where it was nominated for the Grand Jury Prize for Best Dramatic Feature).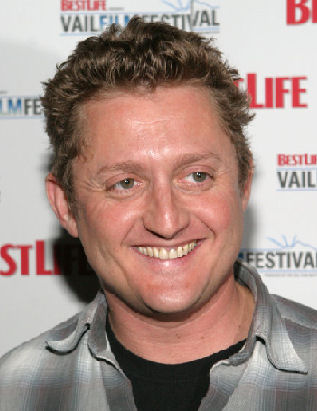 | | |
| --- | --- |
| The award for Best Dramatic Feature Film this year at Vail was presented to a film called Laura smiles (directed by Jason Ruscio). Laura Smiles is the story of one woman's attempt to reinvent her life after a tragedy. However, her life spirals out of control through a series of sexual encounters, as she tries to return to a time when love was real. | |
---
February 11, 2006
Switchable & Stickable Bill
Swicherz are interchangeable 3-D stickers which you can stick anywhere. Wanna decorate your snowboard, skateboard or surfboard with Bill S. Preston, Esquire, Ted "Theodore" Logan or Rufus? Here's your chance to win some swicherz for free. There's a contest up on the Bill & Ted website. You can enter the contest by clicking here. Winners will be chosen at random on February 25, 2006.
---
January 27, 2006
Tabla Beat Science: Talamanam Sound Clash (2003)
a review I picked up at monsters at play.com :
by Gregory S. Burkart
"The visuals are a large component of a TBS concert, and it's here that one of the most interesting aspects of TALMANAM SOUND CLASH comes into play – not on the stage, but behind the camera. The proceedings are overseen by a man named Alex Winter, whose name will ring a joy buzzer in the Houses of the Holy. Yes, THAT Alex Winter, AKA Bill S. Preston, Esquire, being the non-Keanu half of the Most Excellent Bill & Ted. He's also a damn good filmmaker, and one of indie cinema's seldom-sung heroes, having directed several hilarious short films (with creative comrade Tom Stern), MTV's one-off classic "The Idiot Box," misunderstood feature comedy FREAKED, and festival-fave sleeper FEVER. (He's also behind an eye-opening documentary about the history of Napster.) Winter's direction here is remarkably low-key compared to his psychotic early efforts, but he clearly understands the need to make his imagery as organic as the band's sound design. He also provided many of the film clips intercut with concert footage - fans of his earlier work may catch a few recycled images. He wisely keeps the proceedings from heading too far off into acid-land, but it's still a dazzling kaleidoscope that's super-cool to watch in a dark room, no doubt inviting those so inclined to indulge in a nice, fat, toasty, uh… sandwich. Yeah."
Visuals notwithstanding, the sound's the thing on a disc like this, and it definitely does not disappoint. Dolby and DTS 5.1 options are available, and dag momma, this shit will rock your system but good. The band has opted for a bass-heavy jazz-style mix in the forefront, apropos for a gig at the Filmore (yer damn skippy), but Shibabaw's ethereal vocals are mixed out wide, hovering at the rear to create a kind of lush envelope. Each tabla hit is crisp and neat, and Disk's frenetic scratching has a silky quality that's unlike any turntable work I've ever heard.
Extras include an MX multi-angle feature that, instead of being accessible from your normal multi-angle settings, is encoded into a separate play mode. Selecting a small inset of the alternate angle will allow you to switch when desired. Nothing fancy, but it does allow some different edit variations. Bonus tracks include a cool beat-club reading to music, a far-out kaleidoscope rendering of one of Khan's performances, and a brief interview featurette in which a few members explain the band's origins and mission. DVD-ROM extras feature some exclusive remixes and web links. Surreal artwork swirls through the animated menus – and it's more than a little creepy.
Like I said up-top, don't be dissuaded by the "World" tag, because this is not the usual boring tribal-chants-meet-drums-and-bass crap repeated ad nauseam by less-than-enlightened labels. This is the real shit. The ancient melodies and rhythms executed by Hussain are not tacked onto a cold, lifeless electronic frame, but are elevated by a warm, organic and very human methodology that retains the comfort of the old ways while celebrating the energy of the new.
---
April 21, 2005

More Freaked on DVD news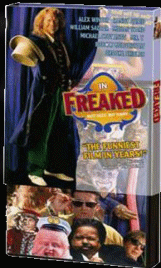 Fangoria magazine just posted the following newsflash :
Anchor Bay Entertainment gave Fango the exclusive scoop on the final details of its FREAKED two-DVD special edition (now set to street July 12), along with the dual-layer cover art. Alex Winter and Tom Stern's outrageous monster comedy will be presented in 1.85:1, 16x9-enhanced widescreen (Fango got an advance peek at the transfer, which looks great), with Dolby Digital 5.1 Surround audio.
The first disc will contain the following extras:
• Audio commentary by Winter and Stern
• A conversation with co-writer Tim Burns
• Deleted scenes
• Hijinx in Freekland, a collection of behind-the-scenes footage (Fango got to check this out too funny stuff!)
• FREAKED art gallery
• Theatrical trailer
• DVD-ROM original screenplay
The second disc will include:

• FREAKED: The Reehersel Version, a full-length cast rehearsal of the film, including Keanu Reeves sans Dog Boy makeup, with scenes and dialogue that never made it into the final film
• There Are No Weirdos Here, early script readings of selected scenes, featuring actors Winter, Megan Ward, Michael Stoyanov, Derek McGrath, Lee Arenberg and John Hawkes
• It's the Troll, terrifying footage of young actor Alex Zuckerman developing the character of Stuey Gluck
• Under Construkshen, behind-the-scenes video showing the creation of the Freek Land set
• Behold…The Beast Boy, footage of Winter's makeup transformation into a hideous mutant freek
• Two short films by Winter and Stern, SQUEAL OF DEATH and THE NYU SIGHT AND SOUND PROJECT
The set will also come with a "freekish" booklet containing liner notes and photos.
Retail price for all this is just $19.98.

Click here to read the Fangoria article. And you can pre-order the special edition box from Anchor Bay Entertainment.com by clicking here
With special thanks to Alex Brunelle
---
April 20, 2005

Bill & Ted's Excellent Collection
DVD box set scheduled to be released on July 12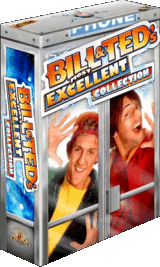 This box set is now listed on the MGM/UA website as a coming release.
Click here to read more
MGM Home Entertainment has announced the Bill & Ted Collection which includes both Bill and Ted's movies, plus a radically cool bonus disc. The set will be available to own from the 12th July this year, and should retail at around $39.96. The bonus disc will include:
an Original Bill & Ted: In Conversation with Chris & Ed feature,
The Most Triumphant Making-Of documentary,
an Interview With Guitarist Steve Vai,
an Air Guitar Tutorial with Bjorn Toroque and The Rockness Monster,
The Hysterical Personages of Bill & Ted (in 3 Minutes or Less) and
another feature entiteld One Sweet and Sour Chinese Adventure To Go.
Completing the package will be Bill and Ted's Excellent Comic Book and lastly, some radio spots.

You can pre-order the set from Amazon.com by clicking here
airguitar for this one !
---

April 3, 2005
The Idiot Box
On June 14 we can all finally watch and enjoy Freaked on DVD.
Apparently the petition Alex and Tom put up a little while back was a success and helped to convince Fox to give this movie a proper DVD release.

What worked once might work twice, so Alex and Tom are now trying the same to get MTV to release The Idiot Box on DVD. The Idiot Box was a series of shows they made for MTV in the early 90's. The show is still immensely popular amongst the fans and many of them still have fond memories of the characters on this show like, Eddie the Flying Gimp, Willard Shreck, Rain Man II Electric Boogaloo, the loveable Huggins Family and Lock Jaw (to name a few).

Please take a moment to sign the petition at the link below, and help giving the elusive Box a proper and well deserved DVD release. It's a shame MTV didn't release this show on video or DVD any sooner. God should have dropped his mighty anvil on their heads a long time ago.

Thanks
Nicolette



Damn these eyes
---
February 25, 2005
"Napster" tale gets Winter touch

With this wintry cold outside here at the moment, it is nice to be able to bring you some warm news:
Napster will be made into a movie for MTV Films, rather than a TV movie for MTV cable.
Dark Horizons reported this week:
Paramount and MTV Films have hired Alex Winter to pen "Napster :
The Shawn Fanning Bio Project"
MTV originally developed the project about the Napster founder as a TV movie in 2002 but decided only last year to take the story to the bigscreen. In 1999 Fanning created Napster in his dorm room at Northeastern University in Boston as a way for collegians to swap music files on the Internet.
He dropped out of school to launch Napster as an online business, prompting lawsuits from the Recording Industry Assn. of America. Fanning's company filed for bankruptcy in 2002. He recently launched Snocap in hopes of making peer-to-peer networks legitimate.
---

February 16, 2005
Choose Phil

Alex has recently joined forces with a new production company.
You can now watch some of his directorial works at:
www.philsfilms.com

---
January 15, 2005

It's coming
Anchor Bay Entertainment has announced that, as part of its recent deal with Fox for that studio to distribute its product, it will be bringing a number of Fox pictures to DVD. A number of genre titles are among the group, most notably the great creature comedy Freaked. In an interview with Fangoria Magazine Anchor Bay's Micheal Felsher states: "We've already spoken with Alex Winter, and he definitely will be involved, we're going to make this a big special edition. It should be out in early summer of 2005, and will have audio commentary, interviews, deleted scenes, behind-the-scenes footage - whatever's available. We have every intention of using the version with the extra scenes (not seen in Fox's domestic theatrical and VHS/laserdisc cut), which just came out in England."
This calls for a celebration I'd say...... Macaroons for everybody!

To read the Esplatter article click here
To read the Fangoria Magazine article click here
---
August 21, 2004

Jimmy Kimmel Live
Jimmy Kimmel Live is ABC Television's daily late night talk show.
The show has a diverse line-up of guests that includes celebrities, athletes, musical acts, comedians, human interest subjects and dangerously crazy people, together with comedy bits and a house band. Jimmy Kimmel has been on the American cable "Comedy Central" channel for several years, on shows like "Win Ben Stein's Money" and as a co-host with Adam Carolla on "The Man Show". Jimmy Kimmel Live premiered on Superbowl Sunday in 2003, and airs on weekdays from 12:05/11:05.

"Okay now, that's interesting info. But what does this have to do with Alex?" I hear you ask. Here comes the clue: he directs the comedy sketches for this show from time to time. The parody of Mel Gibson's "Passion of the Christ" is one of the sketches he recently directed for the Kimmel show.

Saillant detail is that filmschool buddy Tom Stern, is also part of the cast and crew of Jimmy Kimmel Live. In 2003 Stern and Kimmel already produced a tv-series together titled "Gerhard Reinke's Wanderlust" a travel show parody.
Alex in action for the Jimmy Kimmel show
Photos taken by Dave Currence in Hollywood
on August 12, 2004. Many thanks Dave!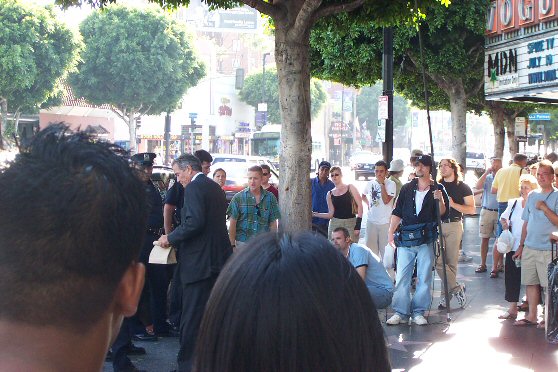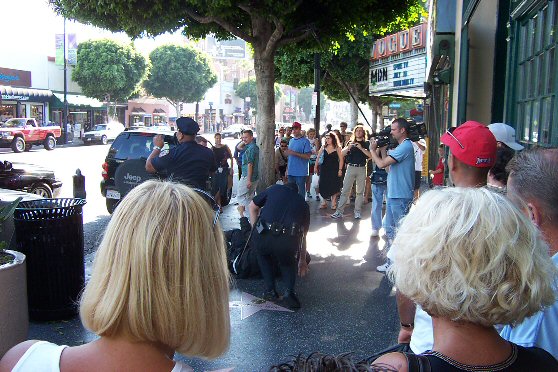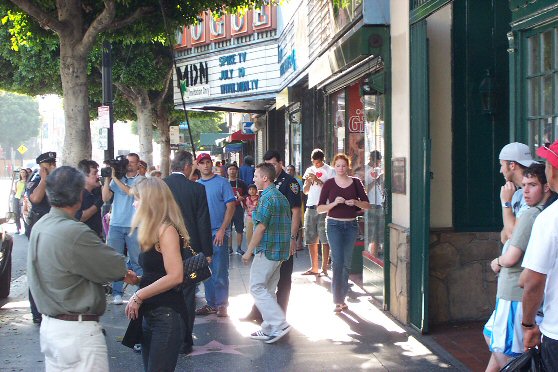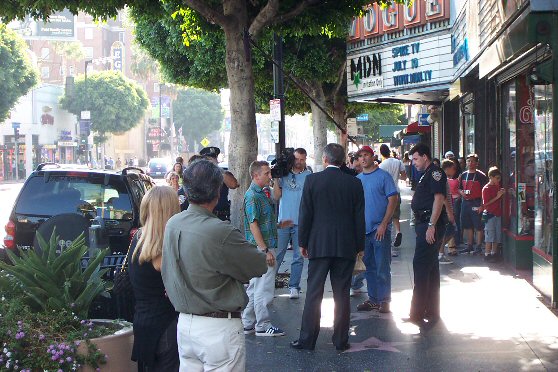 ---
May 17, 2004
Lost Boys Special Edition DVD due August 10
Warner home video has announced a two-disc special edition of The Lost Boys, due on August 10, 2004

The DVD will get a new transfer and Dolby Digital 5.1 surround sound, plus the following bonus materials:
Commentary by director Joel Schumacher
The Lost Boys: A Retrospective, with Joel Schumacher, Richard Donner, Kiefer Sutherland, Jami Gertz, Corey Feldman, Corey Haim, Jamison Newlander, Greg Cannom, Edward Herrmann and Micheal Chapman
Inside the Vampire's Cave
A Director's Vision three-part segment
Vamping Out: The Undead Creations of Greg Cannom
The Vampire's Photo Gallery
The Return of Sam and the Frog Brothers
Haimster & Feldog: the story of the 2 Coreys
Multi-Angle Video Commentary with Corey Haim, Corey Feldman and Jamison Newlander
The Lost Scenes - Deleted scenes
A World of Vampires - interactive ancient map of the world and the vampires that inhabit it
"Lost in the Shadows" music video by Lou Gramm
Theatrical trailer
---
March 25, 2004

Crossroads acquires Acts Of Charity script for Winter to direct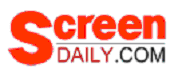 Mike Goodridge in Las Vegas
23 March 2004 04:00
New York-based commercials, music video and movie producer Crossroads Films has optioned rights to the screenplay Acts Of Charity by UK screenwriter Chips Hardy and Alex Winter the London-based film-maker who is also attached to direct the film.
Alan Rickman is attached to play the role of British ex-pat journalist in the film which follows the trials and tribulations of a young corporate executive sent on a hopeless humanitarian mission deep into the jungles of a struggling African nation.
Crossroads, which has a first-look deal with MGM/United Artists, describe the film as in the darkly comic spirit of Catch 22, MASH and Three Kings.
Crossroads principals Dan Lindau and Cami Taylor will co-produce the film with Paul Miller (Lone Star, Prozac Nation). The project was brought into the company by East coast head of development David Title.
Winter, most famous for playing Bill in Bill & Ted's Excellent Adventure and its sequel, first directed Fever starring Henry Thomas which world premiered in Directors Fortnight at the Cannes Film Festival in 1999 and is currently writing and directing the Napster story for MTV Original Pictures.
The Acts Of Charity deal was negotiated for Crossroads by Joe Dapello at Schreck, Rose & Dapello. Winter is represented by The Gersh Agency, Chris Ridenhour at Evolution and Sloss Law Office. Hardy is represented by Linda Siefert.
"Chips and I have traveled the world researching this movie," said Winter in a statement. "It's great to finally land at such a smart and passionate home as Crossroads."
The movie tells the tale of a young corporate executive sent on a humanitarian mission in the African jungle, where he meets up with a cynical British journalist, played by Alan Rickman (Love Actually, Harry Potter, Sense and Sensibility, Robin Hood), who educates the youngster on work in the jungle.
Alan Rickman
Read the Screen International article and get ready to go see a good movie !

Related articles that appeared on the internet

---
January 4, 2004
A one way ticket to Santa Flan ?
Freaked on DVD that is what we want !
Over the years fans have been craving to see Freaked on DVD together with extra features and comment by the directors. Now you can help to make this possible. Tom Stern and Alex Winter have put up a petition to Fox to try and officially put out Freaked on DVD. If you're a fan of biting satire like me, and have a taste for the discerning humor of Tom and Alex please click the link and sign the petition. This film really deserves a DVD release.
---
November 20, 2003

Keanu's Biography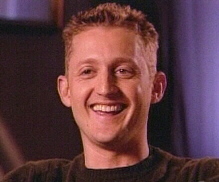 The A&E Biography about Keanu Reeves aired on November 16, 2003. What it treat if was for us Alex Winter fans, that he appeared quite a few times on the show to comment on his friend Keanu's life and the Bill and Ted phenomenon. To all the lucky devils from the US amongst us: it's likely that A&E will air Keanu's Biography again, so to catch the show please check the Biography site by clicking here.
---
November 11, 2003

Tabla Beat Science
Talamanam Sound Clash DVD Movie
As you already may have read in the Q&A, Alex directed a long form DVD for a band called Tabla Beat Science (for those of you who, like me, haven't heard of the instrument before: the "tabla" is an ancient Indian drumset, composed of a right and left handed drum). Tabla Beat Science is a musical project founded by Zakir Hussain (tabla-player) and Bill Laswell (producer, bassplayer and composer) and which presents the current world music experience. It is a melding of cultures, combining ancient rhythms and modern audio/visual psychedelia in a way that both references the past and advances the future. The DVD set is titled: Talamanam Sound Clash, Further Adventures in Hypercussion and features the live concert of the band at the legendary Fillmore in San Francisco in June 2002 amongst others. The multi-camera aspect of the DVD is amazing, it must have been a real directing challenge for Alex. The MX Multiangle feature enables the viewers to choose what they want to watch on stage throughout the concert, from close-ups of the tabla and the band's musicianship to wide-shots of the entire stage. It also provides a picture-in picture preview of the available choices and allows viewers to easily select their choice with a simple push of the enter button. You can order the Talamanam Sound Clash two-DVD set by clicking here.
---
July 2003

The most excellent Bill & Ted connection on the web goes official
I'm proud to bring you the good news that as of now, http://www.billandted.org is the official place to be for everyone who has a warm place in their heart for (of course!) Bill & Ted, their evil robot versions, Elizabeth & Joanna, Rufus, The Grim Reaper, Missy, Chuck Denomolos, the Frood dude, Noah's wife, Abraham Lincoln, the short dead dude from France with a thing for waterslides, Billy the Kid, Beethoven, Ghengis Khan, Socrates, Station and everyone else I forgot to mention. From the land of Eddie Van Halen I'd like to congratulate webmaster and good friend Linda Kay with her new official status and give her my compliments on doing a most outstanding job on her site!
---
November 18, 2002

Dude To Man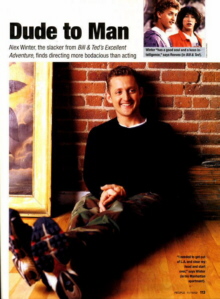 In an interview with People's magazine Alex confims that he's planning to direct a screenplay for MTV about Napster icon Shawn Fanning. Now my curiosity really is arosed and expectations are high. More webresearch learns that 21year old Fanning even gets to play himself in the movie.
---
October 4, 2002

MTV to make NAPSTER - The Movie
The first article on a possible scriptwriting for MTV about Napster founder Shawn Fanning appears on the internet: Alex Winter of "Bill and Ted" fame may dramatise the story of Napster's rise and fall for TV. Quote: "Filmmaker Alex Winter, who played Bill in the Bill & Ted's Excellent Adventure" movies, is scheduled to write and possibly direct, the project."
Click on the button for more background info

---